This morning I went out to Barr Lake State Park to watch a program about the bird banding program run by the Bird Conservancy of the Rockies.
I was a few minutes early.  Here's Barr Lake, draped by the haze of the wildfires:
I didn't have much time to look for birds before the program started.  I saw just a couple:
Then I walked down to the birding station.  Meredith McBurney, assisted by volunteers including Diane White and Charlie Chase, conducted the program.  There were six of us visitors for the 9:00 a.m. time slot:  a family of four (a young woman with two young children, home-schooled and impeccably behaved, and her father-in-law, visiting from Sarasota), a volunteer from years past, and me.  At the banding station, there were benches for visitors and several tables set up underneath a mesh sun shade.  Volunteers had made a circuit around the mist nets, some twenty of them, and had brought back birds in colorful bags:
Meredith would take one of the bags and bring forth the bird within:
In this case, it was a Spotted Towhee, a "recap," or recapture.   That is, the bird had been previously banded just a day earlier.  Meredith would identify the bird for another volunteer doing the recording and give the number of the net it was caught in.   Then, if it hadn't already been banded, she would read off a band number and band the bird.  Then she would take measurements, weigh the bird, and check how much fat it had by blowing on the feathers of its belly.
Finally, she would select a visitor to release the bird.  She let the two young children release the first two birds she'd banded:  a Wilson's Warbler and an Orange-crowned Warbler, each of which had weighed only seven to eight grams and which were fairly calm.   For the release of the Spotted Towhee, which weighed several times as much as the warblers and which had bitten her several times, probably piqued from being captured a second time in about as many days, she selected me.  She asked me to cup my hands, and then she placed the bird, on its back, in my hands.  The bird, disoriented in this position, didn't move.  Then Meredith asked me to jiggle my hands gently.  The bird righted itself and flew off.
Here is Meredith with an Orange-crowned Warbler:
With a juvenile White-crowned Sparrow:
With a Townsend's Warbler:
As Meredith was banding the birds, a juvenile Swainson's Hawk flew by.  Volunteer Charlie Chase explained that the juvenile Swainson's Hawks liked to patrol the nearby ditch, which was dry, for mice.  Soon they would migrating to Argentina to spend our winter.
Then the family and I got to accompany Charlie Chase as he made a circuit of the mist nets, which is done no less than every thirty minutes.
As we made the circuit, we saw several birds had been caught, including this Orange-crowned Warbler, which Charlie delicately worked free from the net
Working free a Wilson's Warbler:
Working free a Yellow-rumped Warbler (Audubon's):
Holding a Swainson's Thrush he had just worked free:
After he worked each bird free, he deposited it into one of the colorful bags and gave it to one of us adults to carry.  Before I knew it, the program was done, and the 10:00 a.m. crowd (of six masked visitors) was learning how the banding station worked.  A last look at Barr Lake before I left: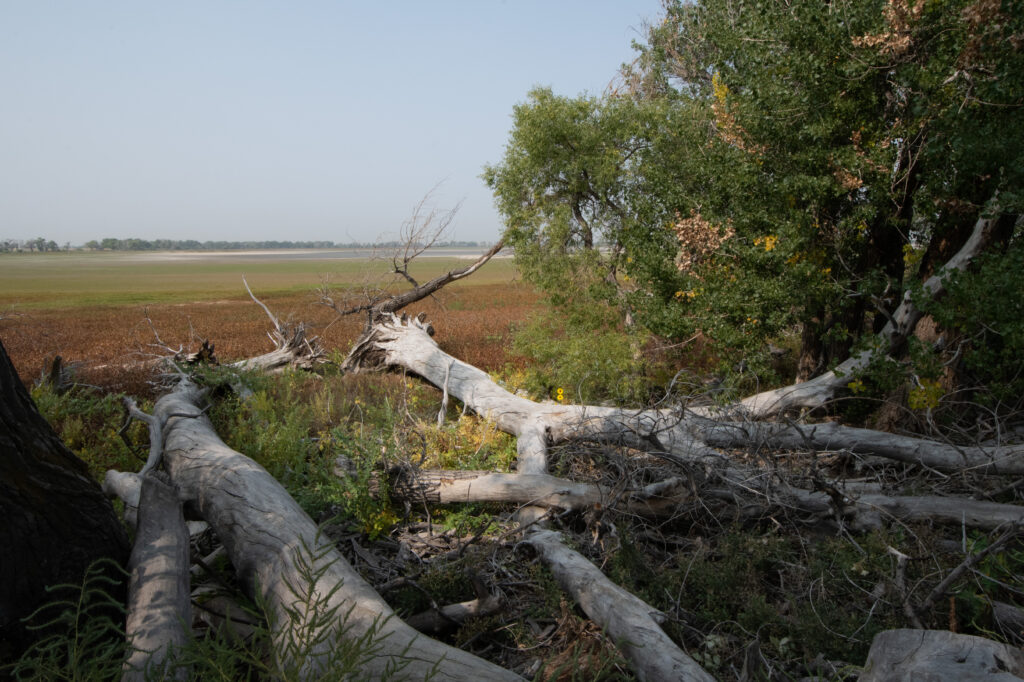 Once I got back home, I checked the back deck for hummers.  Before long, a Broad-tailed Hummingbird showed up.  As shown below, it's growing back a few feathers:
There were also two White-crowned Sparrows in the back yard, the first time I've seen them in our yard.  Here's one: